Ribbon Cutting-D&B Supply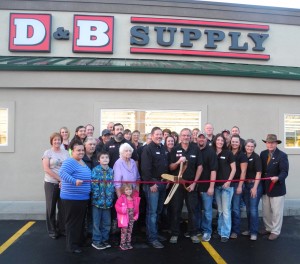 Gem County Chamber of Commerce Ribbon Cutting
Emmett is very excited to welcome D&B Supply to Gem County! D&B Supply is primarily a farm and ranch store but also thrives in providing lawn and garden, hardware, plumbing, and other hand good supplies. Offering clothing items and footwear departments dressing you for a long hard day of work or a great night out! New to D&B, the Emmett location is the only store in Idaho that sells firearms.
D&B Supply was started by Dutch and Bud in 1959 and now at 13 stores from Pendleton, Or to Twin Falls, ID. D&B Supply was built to serve the modern northwestern customer who feels a deep connection to the land and a heart for an outdoor lifestyle.
Providing the best product, at the best price with the best customer service around! D&B Supply implements a set of core values; service, integrity, relationships, and constant improvement. Service means providing something meaningful and useful to their customers. Integrity for D&B means when you are faced with a difficult decision, simply do the right thing. Relationships are about making friends and not just selling products, real relationships and shared experiences make D&B a great place to shop. Finally, constantly improving to make their people and organization better! Encouraging public input and perspective keeps D&B moving forward.
D&B Supply is located at 111 Highway 16. Hours of operation are Monday thru Saturday 8:00 a.m. to 7:00 p.m. and Sunday 10:00 a.m. to 5:00 p.m. Go to their website for sales and special offer at mydbsupply.com, you can also find them on social media: facebook.com/dbsupply; twitter.com/dbsupply; and instagram.com/dbsupply. Call for more details 208-963-7040.