Chamber Bucks are a gift certificate that can be used like cash at any of the participating businesses. The Chamber Bucks program is designed to encourage businesses and individuals in the community to support local businesses and the Gem County Chamber of Commerce members by shopping local. The program is a great benefit and has the potential to generate considerable local economic impact.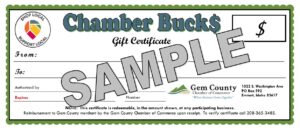 Customers Purchasing Chamber Bucks:
Chamber Bucks make the perfect birthday, anniversary, thank you or holiday gift. They are also great for employee recognition, safety and merit awards.
Chamber Bucks can be purchased at the Gem county Chamber of Commerce office building located at 1022 S Washington Ave, Emmett, Idaho 83617.
At this time Chamber Bucks can only be purchased with cash or check.
Chamber Bucks are available in $5 or larger denominations.
For large orders we ask for advance notice so they can be made and ready for a scheduled pickup.
Chamber Bucks are valid for 12 months from the date of issue.
Lost Chamber Bucks will be treated like cash and are non-replaceable.
Using your Chamber Bucks:
Trusted by Over 200 Local Businesses